Ancient People, and Hominids
A few stray thoughts about Cro Magnons (the oldest real humans on the planet),
Neanderthals, and one or two other kinds of hominids.
Logic is the most major tool which God has given us for understanding our world; any sort of a science theory or claim which cannot pass a sniff test for basic logic is junk science; on a scale of 1 - 10 for ability to generate logical breakdowns amongst people with PHD degrees, the Neanderthal is at least a 9. There are several kinds of such breakdowns. One is the claim that we and the Neanderthal have a "common ancestor". The Neanderthal has been abandoned as a plausible evolutionary antecedent for modern man precisely because the genetic gap is too large (DNA halfway between ours and that of a chimpanzee). Anything 300K - 500K years back which anybody could try to claim was a "common ancestor(TM)" to both us and the Neanderthal (Usually given as homo Heidelbergensis)", would be much more remote from us THAN the Neanderthal. Too-genetically-remote-to-be-ancestral-to is a transitive relationship and the nature of such relationships doesn't require graduate level math; you'd think the people making this particular claim would figure the problem out sooner or later but they don't seem to.
Another is this new claim of 1 - 4% Neanderthal genes in everybody other than Africans. Once again, the Neanderthal was a glorified ape. Any crossbreeding with a glorified ape PRIOR to the bottleneck and Africans would not get left out. Any crossing AFTER the bottleneck and not involving Africans as claimed, and the genetic gap between Africans and everybody else would be gigantic, rather than minuscule as it actually is. Paabo and others making this claim need to go back to school for some sort of a basic logic course.
Then there is the case of Wikipedia and the US Museum of Natural History:
http://en.wikipedia.org/wiki/Neanderthal_anatomy

Wherein we observe a totally reconstructed skeleton with feet (bones at least) just like yours and mine courtesy of the US NatHist Museum and then a bit lower on the page from the Museum of Natural History in Prague, a real footprint which is very clearly that of an ape. One guy in the talk section has tried to alert them to the fact that they have a problem, but it doesn't seem to have taken.

Then of course there is the problem of thinking that a Neanderthal male could/would rape a woman and, rather than cooking and eating her afterwards as usual, somehow or other keep her alive long enough to bear a cross-species child, raise that child to reproductive age, and have him/her breed back into human populations without anybody catching on.....

In real life, Neanderthal females would kill that woman the first time her new owner left her alone for ten minutes; the woman wouldn't fare any better than the subjects of the commie attempts to breed humans and apes into super workers in the 1930s (no subjects survived); humans would notice the child was different (the fur coat, the odd taste for bananas etc.); and the humans would kill that child and everybody else like him as part of the same program which killed out the Neanderthal. They would not need DNA tests to determine who to kill for that sort of reason, again, it would be exceedingly obvious.

The basic, cold, hard reality is that no living human has any Neanderthal or other hominid blood in him/her whatsoever, or is descended from Neanderthals or any hominid in any way whatsoever.
Again thanks to the work of a New Zealand scholar named Danny Vendramini, we now know what Neanderthals looked like:
With and without the ice-age fur coat for illustration, courtesy of www.themandus.org: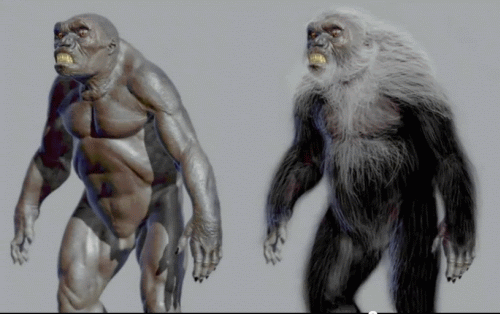 Again Vendramini's artist draws most of his subjects with fight faces. A more businesslike Neanderthal appears in one particular image:
The Neanderthal was the absolute apex predator of ice-age Europe and had spread out to other regions as well, particularly the Levant. He walked on two feet, made stone implements and weapons including thrusting spears, scrapers, and knives, and was certainly more intelligent than any other creature in his environment prior to the arrival of modern humans although it's been noted that some of his physiology and behavior resembled that of big cats more than that of humans:
http://thesubversivearchaeologist.blogspot.com/2011_11_20_archive.html
"...So, I thought I'd do a wee comparison between a modern day "top" carnivore and our cousin's, the Neanderthal, face. Do you see what I see in the image below? It looks as if the felid and the Neanderthal face have more in common than either has with the modern human.
So, I thought I'd do a wee comparison between a modern day "top" carnivore and our cousin's, the Neanderthal, face. Do you see what I see in the image below? It looks as if the felid and the Neanderthal face have more in common than either has with the modern human.

The lion has a keen sense of smell. Which of the bipedal cousins do you think has the better sense of smell? Relative to the rest of the face, the big cat has a nasal aperture that's equivalent in size to that of the Neanderthal. Not so that of the modern-day hominid on the right.

A cat can spot its prey from 3 km away. Can you? Do you think the Neanderthal could?

The cat has dagger-like fangs and molar teeth that would put a deli meat-slicer to shame. "Aha!" you might say, "that chap from Forbes quarry couldn't be as effective as the lion--it doesn't have the appropriate dental accoutrements!" Umm. It's possible, isn't it, that all those flint flakes lying about came in handy for more than whittling?

Image and the thought courtesy of Rob Gargett, The Subversive Archaeologist Blogspot (http://thesubversivearchaeologist.blogspot.com/)
The Subversive Archaeologist missed the question of night vision which Vendramini describes. The lion and the Neanderthal clearly are made for it, we aren't. But the Neanderthal appears to have been MORE adapted to darkness than the big cats.
In fact the most major thing which jumps out at you from Vendramini's reconstructions is the eyes:
Again, images courtesy www.themandus.org
The Neanderthal's brain was LARGER than ours, and yet he wasn't inventive like humans are. You'd think that if this creature ruled the Earth for several hundred thousand years and had a brain larger than ours, the least we should find would be Neanderthal cities... Of course there aren't any. Recent studies indicate that the Neanderthal brain was dominated by areas related to vision. In other words, much if not most of the Neanderthal brain amounted to the neurological equivalent of a military night vision scope.
Lions don't bury their dead of course... The Neanderthal was a cannibalistic creature which yet buried his own dead. That has to mean that a Neanderthal viewed the living world as neatly divided into two parts, i.e. his own family group, and meat. That also explains why they generally did not travel much, at least by human standards. Absent humans in the world, the biggest concern Neanderthals ever had, other than hunting and keeping food in the cave, must have been keeping boundaries straight and dealing with other Neanderthal clans. This could easily have been the most major factor involved in Cro Magnons being able to exterminate the Neanderthals as quickly as they did, i.e. they may have never had to face more than 20 - 40 of them at one time. By the time the Neanderthals ever realized they needed to organize in groups larger than family clans, it was likely too late.
The "Common Ancestor(TM)..."
I mentioned this problem briefly above. The Neanderthal has been ruled out as a possible ancestor for modern man precisely because the genetic gap is too wide (DNA halfway between ours and that of a chimpanzee) and therefore rather than admit the obvious fact that the entire notion of human evolution is FUBAR, scientists who study these topics are claiming that we and the Neanderthal must be cousins, with a "common ancestor" significantly further back. There does not appear to be much agreement as to who or what this "common ancestor" was, but Wikipedia takes a fairly typical position that he was "Homo Rhodesiensis":
I assume that would look about as scary to a Neanderthal as a Neanderthal looks to us and it illustrates the problem, again, too-remote-to-be-ancestral-to is a transitive relationship; if we couldn't be descended from the Neanderthal, we sure as hell could not be descended from that. The position many evolutionites have put themselves into, in other words, is similar to claiming that foxes are too far removed from wolves to be descended from them, and therefore foxes must be descended directly from fish.
There is another school of evolutionite thought which you read in Vendramini's work which says that humans arose in a Gould/Eldridge scenario (Punctuated equilibria) from more gracile hominids whose remains are found in the Levant:
Danny Vendramini's "Them and US" is available from Amazon as a Kindle book for $9 USD, i.e. at this link. If this sort of thing interests you, you should have a copy of it. I believe he makes the strongest case which could possibly be made for thinking that Skhul/Qafzeh hominids evolved into Cro Magnon, or early modern humans, and yet it doesn't really work for a number of reasons, some of which I go into in the page titled "Prehistory".
There is the problem that Elaine Morgan's "Aquatic Ape" thesis generally works better for explaining various human physiological adaptations than Vendramini's thesis does, and there is also the problem that Cro Magnons looked like and behaved like modern humans from the first day they ever hit this planet. That includes good, multi-color paintings and other artwork including images of themselves which definitely look like humans and not hominids:
Three is no evidence of any hominid, including those of the Levant, ever producing anything like that. Vendramini claims that the final 50,000 years worth of the existence of Skhul/Qafzeh hominids (before they magically punk-eeked into Cro Magnons) was spent avoiding Neanderthal predation and attempting to direct their own evolution into something which could defeat the Neanderthals of the Levant and, again, you shouldn't laugh too hard, that's almost certainly the best evolutionary story for the rise of modern man which anybody has ever produced so far or which is in fact producable.
In real life, of course, nobody trains for a prize fight or an upper Paleolithic world war by studying fine arts and if somebody hasn't discovered fine arts in 50K years of preparation for a world war, they aren't going to develop that sort of proclivity suddenly on the day the war starts. Most telling is that descriptions of cave art do not mention any such being found in or around the Levant where this geat punk-eek metamorphoses is supposed to have taken place, e.g.
http://en.wikipedia.org/wiki/Cave_painting
Note also that you do not need to be an evolutionite to comprehend that Elaine Morgan is almost certainly correct in thinking that modern humans originally lived in water or at least in water most of the time. Morgan and Vendramini are both cases of evolution dogma failing to totally ruin good, logical thinking. The punk-eek metamorphoses thing is the only part of Vendramini's thesis which doesn't really work. His reconstructions of Neanderthals are logically sound and he is almost certainly correct in claiming that the Cro Magnons had a titanic case of the ass against Neanderthals which carried over into a case of the ass against all other hominids which they ever encountered. Assuming as I do a saltation model as opposed to Vendramini's punk-eek model, that means that Cro Magnons either developed that case of the ass very quickly upon arrival due to contact and interaction with Neanderthals they encountered in the Levant, or they already had that case of the ass from previous experience with hominids before they got here.
Back to the Natural History Page
This Web Page Created with PageBreeze Free HTML Editor